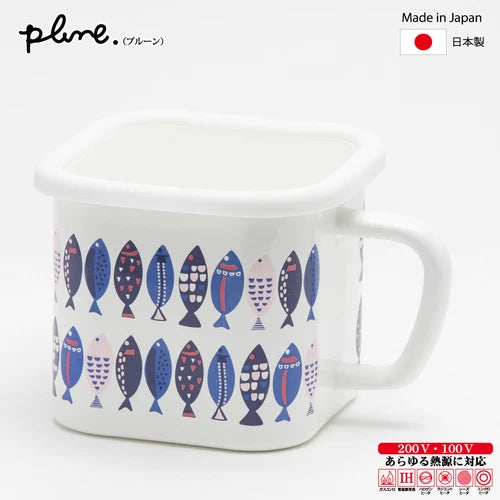 Plune Enamel Multi Square Pot - Fish
Size: W17.8x D14 .0x H11.8 cm
Weight : About 460g
Capacity : 1.45L
Country of manufacture: Japan
Direct fire (gas fire) compatible.
IH electromagnetic cooker (100 / 200V) compatible.
Hollow-made storage container with a handle that is convenient for preserving vegetables and side dishes and miso.
Enamel is resistant to acid and salt, so it is suitable for storing a wide variety of dishes and seasonings.

These enamelware products are made in Tsubame City, Niigata Prefecture, where the patterns are carefully applied one by one by hand to the beautiful glossy surface of the enamelware.

Plune. textile designs add color and fun to your home life.

The beautiful luster and hue of the enamel and the cute design of Plune will add color to your kitchen.

Not only can it be used as a storage container, but also can be used to heat preserved food as it is.